A group of conservationists, farmers, and government agencies have come together to give renewed hope for one of New South Wales' most endangered bird species.
Key points:
The endangered malleefowl has seen its population decline rapidly over the past few decades due to pests and land clearing
Conservationists and farmers have begun collecting the birds' eggs to strengthen its gene pool
Farmers near Rankins Springs have created a 50-hectare pest-free environment for the chicks to be released into
The malleefowl once numbered in their thousands but now only a few hundred remain across isolated parts of the state.
However, over the past decade, the group has promoted pest eradication and sustainable farming practices in Rankins Springs, north of Griffith.
This has resulted in the population stabilizing in one of the last remaining habitats for the malleefowl.
Now they hope the next phase of their project, the collection of malleefowl eggs from their nests, will increase the population.
Mal Carnegie, the founder of the Lake Cowal Foundation, said by collecting the eggs they will be able to strengthen the bird's gene pool.
"We need to start thinking and acting upon diversifying the gene pool for these birds so that we can ensure that they do keep building the way they have been of late," Mr Carnegie said.
"If you have a declining population and you get down to only a handful of birds then if you haven't got that genetic diversity, you have inbreeding.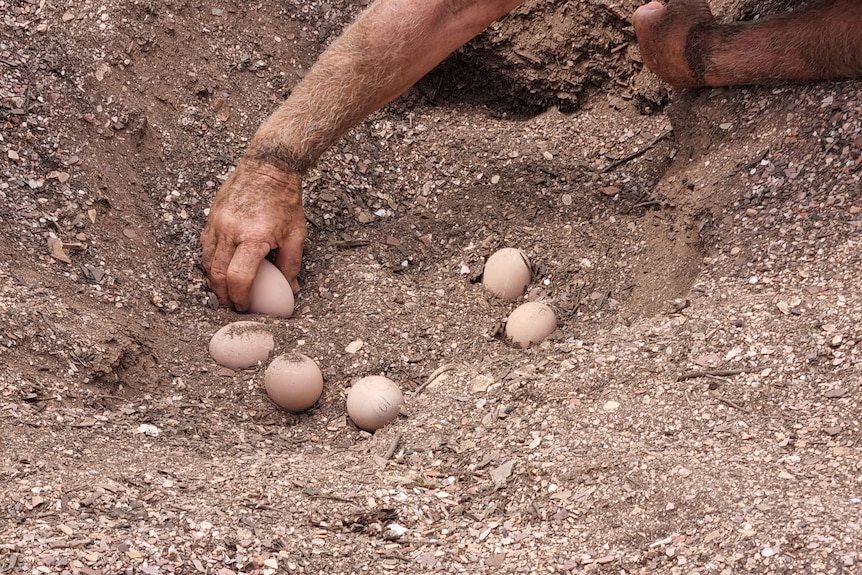 Farmers central to success
Once the eggs are collected they are placed into incubation for up to two weeks before they are released into a 50-hectare pest-free, safe zone that is managed by local farmers.
Without the support of the Rankins Springs farmers to create a safe environment it is unlikely the malleefowl would have survived.
"For 40 years I have been pushing to get malleefowl reintroduced into this area because it was a very historic region for malleefowl research and their habitat," local farmer and volunteer Rodney Guest said.
"It is something that you have always got to be on the ball because if you get rid of a fox or a cat another one moves in to claim the territory."
Pests and land clearing cripple malleefowl
It's feral animals that remain the main threat to the malleefowl population.
"Foxes obviously will dig for quite long periods of time to get that egg, you have 150 to 200 grams of extra tasty protein for them to get stuck into," Mr Carnegie said.
"With pigs it's more the damage to the structure of the mounds more than anything so they will get in there, lay all over it, root it up.
Land clearing over the past century has also destroyed much of the native species habitat.
"Malleefowl have been pushed into suboptimal areas where they are a lot more vulnerable, a lot of the best country for malleefowl has been cleared," said Joe Benshemesh from the National Malleefowl Recovery Group.
.