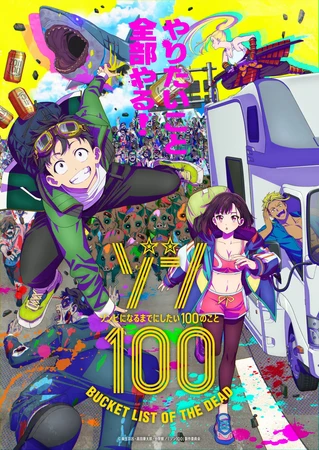 The official website for the anime of Haro Aso and Kotaro Takata's Zom 100: Bucket List of the Dead (Zom 100: Zombie ni Naru Made ni Shitai 100 no Koto) manga announced on Thursday that the anime's sixth episode will be further delayed by 24 hours from Sunday to Monday on some streaming services due to production circumstances. The services affected include Netflix, Hulu, and Crunchyroll. The anime's sixth episode will still air during its regular schedule in Japan on Sunday at 5:00 p.m. JST after a previously announced delay from August 20 to Sunday.
The anime's fourth episode, which aired in Japan on July 30, was similarly delayed to July 31 on some streaming services including Crunchyroll, Hulu, and Netflix, due to production circumstances.
The seventh episode will air on September 3. Then, a recap episode will air on September 10. The eighth and ninth episodes will premiere on September 17 and 24, respectively. As the production delay has affected the schedule, the staff will reveal the broadcast dates for episodes 10-12 at a later time.
The anime's fifth episode was also delayed by one week, and a special program had aired instead in the previous week.
The anime premiered in Japan on July 9. Viz Media has licensed the anime in North America, Latin America, Australia, and New Zealand. The anime is a Viz Media co-production alongside Shogakukan and Shogakukan-Shueisha Productions Japan.
The anime debuted on Crunchyroll, Hulu and Netflix in the United States on July 9 at 5:00 a.m. EDT.
The anime stars Shūichirō Umeda as protagonist Akira Tendo. Tomori Kusunoki co-stars as the heroine Shizuka Mikazuki, a worker in a foreign finance company who always plays it safe on risk-reward, and has an internal list of "100 things you must do to not become a zombie." Makoto Furukawa plays Kenichiro Ryuzaki, while Minami Takahashi as Beatrix Amerhauser.
Kazuki Kawagoe is directing the anime at studio BUG FILMS and Hanako Ueda is the assistant director. Hiroshi Seko is overseeing the series scripts, Kii Tanaka is the character designer, and Junpei Fukuchi is the zombie designer. Makoto Miyazaki is composing the music. Maiko Gōda is in charge of "music selection" and dugout is in charge of sound production. Shogakukan-Shueisha Productions Co., Ltd is producing the anime. KANA-BOON are performing the opening theme song "Song of the Dead," and Shiyui is performing the ending theme song "Happiness of the Dead."
Viz Media licensed the manga, and it describes the story:
Surviving a zombie apocalypse beats being a wage slave any day! After spending years slaving away for a soul-crushing company, Akira's life has lost its luster. He lives in a trash-filled apartment, his pay is abysmal, and he can't even muster up the nerve to confess his love to his beautiful co-worker. But when a zombie apocalypse ravages his town, it gives him the push he needs to live for himself. Now Akira's on a mission to complete all 100 items on his bucket list before he…well, kicks the bucket.
The manga debuted in Shogakukan's Sunday GX magazine in October 2018. Shogakukan published the manga's 14th compiled book volume on June 30. The series was nominated for an Eisner award.
The manga inspired a live-action film that debuted on Netflix worldwide on August 3. Aso's Alice in Borderland manga inspired a live-action series adaptation that debuted on Netflix in December 2021. The second season debuted on Netflix worldwide in December 2022.
Thanks to Glordit and InNeedOfAName for the news tip.
Sources: Zom 100: Bucket List of the Dead anime's website and Twitter account